Russian Tea Cakes - A holiday favorite.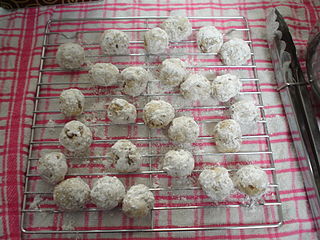 Photo by Maryanne Rodriguez

Ingredients

1 c. butter
1 t. vanilla extract
½ c. powdered sugar (plus extra for rolling)
2 ¼ c. flour (sifted)
¼ t. salt
¾ c. chopped nuts

Preheat oven to 350°F.
Cream butter, vanilla and powdered sugar together.
Add flour, salt and nuts.
Form dough into 1-inch balls.
Place on an ungreased cookie sheet and bake at 350°F for 12 to 14 minutes.
Let cool slightly and roll in extra powdered sugar.  Let cool and roll a second time.
Let us know how yours turn out!