Welcome to our Staff Recipe Blog!
Be ready for new recipes each week from our staff members' own cookbooks. All the recipes posted have been tested, approved, anticipated, and hungered for by family and coworkers alike. No life stories, no irrelevant pages of text to sift through to find out just how much flour you'll need. We jump right into it. 
Miss Christi's Reese's Cup Peanut Butter Cookies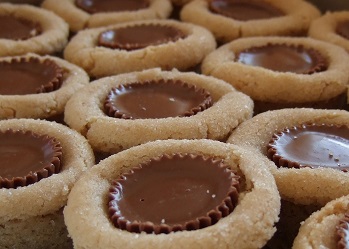 ingredients:
Miniature Reese's peanut butter cups
1 ¼ c. flour
¾ t. baking soda
¼ t. salt
½ c. butter
½ c. peanut butter
½ c. packed brown sugar
½ c. granulated sugar
1 egg
½ t. vanilla
Preheat oven to 375°F.
Stir together flour, soda and salt.  Set aside.
In a mixer bowl beat butter for 30 seconds. 
Add peanut butter and sugars and beat until fluffy. 
Add egg and vanilla, beating well.
Add dry ingredients and beat until combined.
Roll into 1-inch balls and place in lightly oiled or non-stick mini muffin tins.
Bake for 10 minutes at 375°F.
Immediately upon removing from oven, push a Reese's cup into the center of each cookie.
Let cool and remove from tin.
---
---
Three-Ingredient Peanut Butter Cookies (Gluten Free)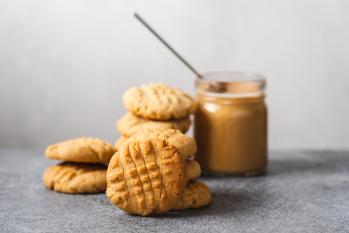 Ingredients

1 c. peanut butter
1 c. sugar
1 egg

Preheat oven to 350°F.  
Mix all ingredients together.  Roll into balls, slightly smaller than a golf ball.  Roll in granulated sugar.  Use a fork to flatten in a crisscross pattern.  
Bake at 350°F for 10 to 12 minutes.           
Makes about 2 dozen cookies.

Tips:
~ A handful of chocolate chips make these irresistible!
~ You can also substitute other nut butters for a slightly different flavor.
---
---
Russian Tea Cakes - A holiday favorite.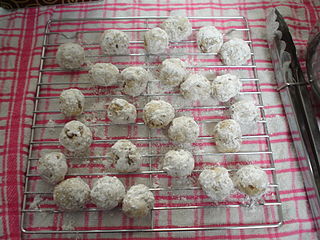 Photo by Maryanne Rodriguez

Ingredients

1 c. butter
1 t. vanilla extract
½ c. powdered sugar (plus extra for rolling)
2 ¼ c. flour (sifted)
¼ t. salt
¾ c. chopped nuts

Preheat oven to 350°F.
Cream butter, vanilla and powdered sugar together.
Add flour, salt and nuts.
Form dough into 1-inch balls.
Place on an ungreased cookie sheet and bake at 350°F for 12 to 14 minutes.
Let cool slightly and roll in extra powdered sugar.  Let cool and roll a second time.
Let us know how yours turn out!
---
---
Easy Time Squares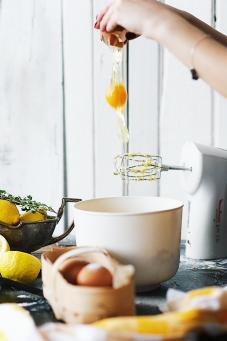 Photo by Daria Shevtsova


Ingredients

2 c. flour
1 ½ c. oleo
4 eggs
1 T. lemon juice
1 can cherry pie filling (or filling of your choice)
Powdered sugar

Preheat oven to 350°F.
Mix sugar and oleo until fluffy.  Add eggs and beat well.
Add flour and lemon juice at low speed.
Pour into greased cookie sheet.  Mark off  20 squares and place 1 T. pie filling in center of each.  

Bake at 350°F for 45 to 50 minutes.

While warm sprinkle with powdered sugar.
---
---
Grandma's Gingersnap Cookies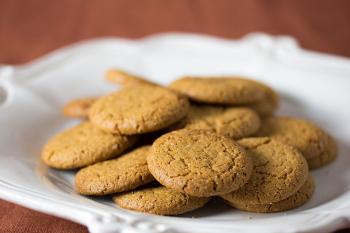 Ingredients

2 c. flour
1 t. ground ginger
2 t. baking soda
1 t. cinnamon
½ t. salt
¾ c. butter shortening (example: Crisco)
1 c. sugar
1 egg
¼ c. dark molasses

Preheat oven to 350°F.
Gently mix flour, ginger, baking soda, cinnamon, salt.  Set aside.
Blend butter shortening and sugar until smooth.
Add egg and blend together.
Add molasses and blend together.
Mix flour mixture into wet ingredients.
Roll into balls (the larger the ball, the larger the cookie).  Coat cookie balls with cinnamon and sugar.  If you make very large cookies, you can flatten the cookie balls a bit to get cracked tops.  

Bake at 350°F for 8 to 10 minutes on ungreased cookie sheets.

Let cool and enjoy!