Three-Ingredient Peanut Butter Cookies (Gluten Free)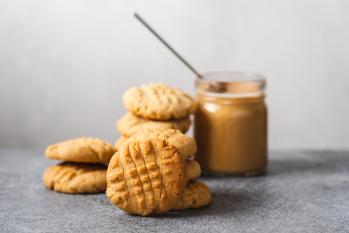 Ingredients

1 c. peanut butter
1 c. sugar
1 egg

Preheat oven to 350°F.
Mix all ingredients together. Roll into balls, slightly smaller than a golf ball. Roll in granulated sugar. Use a fork to flatten in a crisscross pattern.
Bake at 350°F for 10 to 12 minutes.
Makes about 2 dozen cookies.

Tips:
~ A handful of chocolate chips make these irresistible!
~ You can also substitute other nut butters for a slightly different flavor.