Grandma's Gingersnap Cookies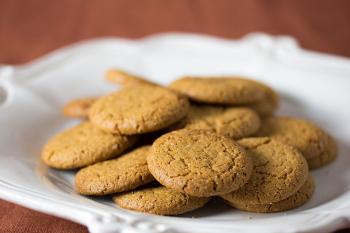 Ingredients

2 c. flour
1 t. ground ginger
2 t. baking soda
1 t. cinnamon
½ t. salt
¾ c. butter shortening (example: Crisco)
1 c. sugar
1 egg
¼ c. dark molasses

Preheat oven to 350°F.
Gently mix flour, ginger, baking soda, cinnamon, salt. Set aside.
Blend butter shortening and sugar until smooth.
Add egg and blend together.
Add molasses and blend together.
Mix flour mixture into wet ingredients.
Roll into balls (the larger the ball, the larger the cookie). Coat cookie balls with cinnamon and sugar. If you make very large cookies, you can flatten the cookie balls a bit to get cracked tops.
Bake at 350°F for 8 to 10 minutes on ungreased cookie sheets.
Let cool and enjoy!