Welcome to our Staff Recipe Blog!
Be ready for new recipes each week from our staff members' own cookbooks. All the recipes posted have been tested, approved, anticipated, and hungered for by family and coworkers alike. No life stories, no irrelevant pages of text to sift through to find out just how much flour you'll need. We jump right into it.
Are you ready for the first of the series? Here it is!
Miss Christi's Reese's Cup Peanut Butter Cookies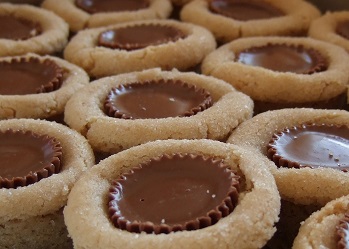 ingredients:
Miniature Reese's peanut butter cups
1 ¼ c. flour
¾ t. baking soda
¼ t. salt
½ c. butter
½ c. peanut butter
½ c. packed brown sugar
½ c. granulated sugar
1 egg
½ t. vanilla
Preheat oven to 375°F.
Stir together flour, soda and salt. Set aside.
In a mixer bowl beat butter for 30 seconds.
Add peanut butter and sugars and beat until fluffy.
Add egg and vanilla, beating well.
Add dry ingredients and beat until combined.
Roll into 1-inch balls and place in lightly oiled or non-stick mini muffin tins.
Bake for 10 minutes at 375°F.
Immediately upon removing from oven, push a Reese's cup into the center of each cookie.
Let cool and remove from tin.