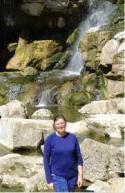 January 31, 2022 at 6:30 p.m. at the Springboro City Building, 320 W. Central Ave., Springboro.
Registration is not required and seating is on a first come basis.
This pilgrimage route through northern Spain to Santiago de Compostela is over 1,000 years old. Although it has many starting points throughout Europe, the oldest and most popular track is the Napoleonic or French route, which traditionally begins on the French side of the Pyrenees in Saint Jean Pied de Port. Join Dr. Jocelyn Hardman as she discusses the rich history of this pilgrimage and the multitude of cultural artifacts it has inspired, as well as how to train, plan and pack for it. Dr. Hardman is a Lecturer in Spanish and has hiked extensively in Europe, South America and the United States.