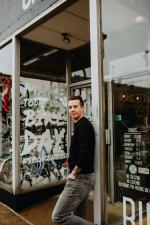 February 16, 2022 at 6:30 p.m. at the Springboro City Building, 320 W. Central Ave., Springboro.
No registration is required.  Seating on a first come basis.
This hands-on session will cover basic bicycle repair as we transition from winter to spring riding season. Learn how to properly clean and lube your drivetrain, how to fix a flat tire (feel free to bring your tire!), basic adjustments and safety checks. The session is not designed to diagnose and repair specific issues, but a learning opportunity for routine maintenance and repair on bicycles. Otto Bohn owns and operates Spoken Bicycles in Downtown Middletown, which sells and repairs bicycles, accessories and also conducts spinning and road riding classes and rides.